Hymer 694 1994 Vintage towing Peugeot 204 with a "Car-A-Tow" frame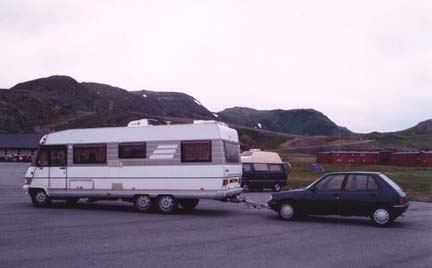 Almost perfect.... well what was wrong with it.... yes be picky... well the frig was too small for every day use.
the shower was not built for a 220lb 6ft male, the kitchen was small for long periods,
the wardrobe space was almost not existent, the air-conditioned was not worthy of its name,
the generator fuel tank was not large enough for long use and being petrol on a diesel driven van
was not a good idea. the Telford toilet was small and needed to be emptied often. The pull down bed
needed a ladder to climb into and like most was a fraction small for two people who are used to a king size bed.
Well what was exceptional about it? ... yes be generous... it was good for two people who needed their own areas as it
had two large working areas and we used one for Oil painting and one for computer work. It was good to drive with a turbo diesel
and we had no problems towing the Peugeot thro the hills and valleys form England to the very top of Norway and back thro Finland etc.
It was economical on fuel and most of the time we did not know the car was behind except when it came to paying the various ferry fees.